About Ferry Perhentian Island Terminal

Situated in Terengganu's Malaysian state, Perhentian Island consists of the two islands of Pulau Perhentian Besar and Pulau Perhentian Kecil. Set in the tropical forest overlooking the South China Sea, Shari La Island Resort is one of the best places to stay in Pulau Perhentian Kecil. This tropical beach destination attracts budget travelers, backpackers, adventure seekers, and nature lovers who are drawn to its rough-and-tumble jungle appeal.

Perhentian Island lies approximately 19 km off the coast of north-eastern Malaysia. Shari la is a relaxed Perhentian island resort that makes its guests feel comfortable by providing the best in amenities like 24-hour security, 24-hour room service, convenience store, free Wi-Fi in all rooms, and daily housekeeping.

Kuala Besut Jetty is the only departure point to Perhentian Island. Easily accessible from the north-east coast, the Perhentian Kecil Island can be reached via Long Beach Jetty. Whether you're on an island-hopping trip or heading for a sea-side party, ferries can be a popular mode of sea transportation. Several ferry operators use speed boats and smaller wooden boats that take tourists to the Perhentian island resort.

How to get to Perhentian Terminal

Kuala Besut Bus station is just 1 km away from the Kuala Besut Jetty. Perhentian island ferry services take around 45 minutes, covering a distance of 20 km from Kuala Besut Jetty to reach Long Beach. A ticket for a ferry to Perhentian can be booked on the spot or online. Its address is Perhentian Kecil Island, 22300 Besut, Terengganu, Malaysia. Among the different ways of reaching the Perhentian terminal, here are some of the suitable options:

By Bus-
Express bus services take 8 hours by road to reach Kuala Besut Town from Kuala Lumpur. Book an online bus ticket via redBus to reach your destination in a hassle-free manner.
By local cabs/taxis-
Taxi or local cabs are available for seamless travel from Kuala Lumpur Airport and other parts of Kuala Lumpur to Kuala Besut Jetty.
By Air-`
You can take a direct flight from Kuala Lumpur to Kuala Terengganu or Kota Bahru. Take a bus from the Kota Bahru airport to Kuala Besut Bus Station, from where you need to walk only 10 minutes to reach the Kuala Besut Jetty.
By Speed Boat/Ferry-
The Perhentian Island Terminal can be reached by speedboat or ferry at the same price. However, the one-way charter boat will cost more depending on the weather.

Popular Ferry Operators at Perhentian Island
Several boat operators manage the ferry To Perhentian island from Kuala Besut Jetty. Perhentian Trans Holiday Sdn Bhd, Barracuda Holiday Sdn Bhd, Seven Seas Holiday Sdn Bhd, Aina Holidays, De Penarik Beach Travel & Tour Sdn Bhd are some of the ferry services that operate from this ferry terminal. Direct ferries run every three hours between the two destinations. Perhentian Trans Holiday Sdn is one of the leading ferry service operator offering economical and high-quality customer service.

With over 6 years of experience, Perhentian Trans Holiday Sdn BHD is a highly recommended ferry service provider in this route. Its well-maintained ferry fleets are divided into two categories of standard and economy class that sail at regular intervals from Kuala Besut Jetty towards Perhentian Island Terminal. Perhentian Trans Holiday Sdn BHD ferry service offers around 8 safe, comfortable, and economical ferry trips per day, enhancing its customers' travel experience.

Perhentian Trans Holiday Sdn BHD ferry tickets can be booked by downloading the redBus website or its mobile app. With the liberty to choose the trip timing, attractive online discounts, and cashback upon bookings, redBus is a highly recommended and trusted ticketing platform.

Popular Ferry Routes from Perhentian Terminal

A Ferry To Perhentian connects Keula Besut Jetty Terminal to Perhentian Island Terminal, with many ferries sailing every day. The popular route from Perhentian Ferry Terminal is the return trip :
Pulao Perhentian Ferry Terminal To Kuala Besut Jetty

Perhentian Terminal ferry schedule

The Perhentian jetty schedule has several daily ferry departures from Perhentian Island Terminal to Kuala Besut and vice versa. The departure time is from 9:00 a.m. to 4.00 p.m. for a ferry to Perhentian with ferries departing after every hour. Simultaneously, the return trip from the Perhentian Islands is scheduled between 8:00 a.m., 12.00 p.m., and 4:00 p.m., with some of the service providers departing every one hour. The first ferry by Perhentian Trans.com leaves at 8:00 a.m. (Malaysian time) from Kuala Besut, and the last ferry leaves at 5:00 p.m. for Perhentian Island. Most ferries from the two destinations operate every day. Passengers must note that the trip is subjected to high tide and strong weather conditions.

Bookings for the ferry of your choice can be made in a seamless manner by checking information on the Perhentian Jetty schedule on the redBus website.

Facilities at Perhentian Island Terminal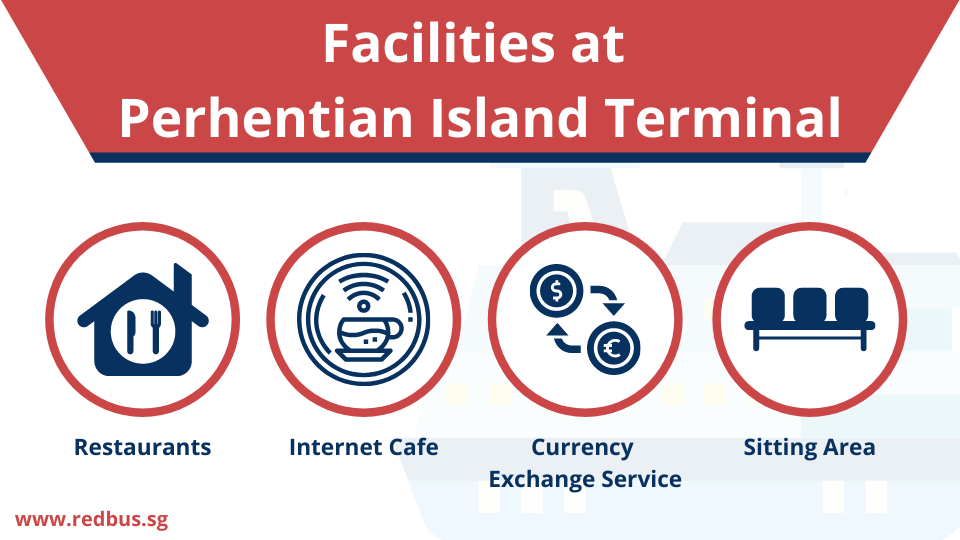 The simple and sheltered Long Beach Jetty with wooden pier allows travelers availing the Perhentian Island Ferry to get to the shore of Perhentian Kecil Island. There are benches, currency exchange service, internet cafes, restaurants for the convenience of the tourists.

Travelers can take the Perhentian Island ferry to return back to Kuala Besut Jetty Terminal or proceed to nearby island destinations by booking ferry tickets on redBus. To make your bus ticket booking, check the detailed ferry schedule and information pertaining to ticket prices and ferry operator information on the redBus website or app. Book your tickets well in advance with redBus to get the best deals at competitive prices.