One of the largest ferry operators in Singapore, Sindo Ferry was started back in 1999. The ferry service began with a small fleet but now includes several modern and well-maintained ferries, each with 150 to 300 passengers capacity. According to the Sindo Ferry schedule, these ferries are available throughout the week. You can also get a ferry on specific routes during the weekend. Opt for ferry ticket booking on redBus and get attractive discounts to save more.
Sindo Ferry Services
If you are looking for convenience and comfort, Sindo Ferry is the best option. It serves multiple routes between Singapore and Indonesia and is the best way to travel across borders affordably and quickly. Sindo Ferry is known for its reasonable ticket prices, insurance, and various facilities.
Sindo Ferry is a certified ferry operator in Southeast Asia, and its fleet can carry 150 to 300 passengers at a time. In addition to modern ferry technology, passengers would be facilitated by comfortable seats and helpful staff who are ready to answer your queries before and during the journey
Sindo Ferry Timing
Sindo Ferry services are available on most routes throughout the week. For example, if you are traveling to and from Batam Centre, the first ferry will depart from Harbourfront Ferry Terminal at 8:00 a.m. The ferry on the return route is available even earlier, at 6:00 a.m. Sindo ferries on this route are available throughout the day. The Sindo Ferry to and from Tanah Merah Ferry Terminal is available during the day, while ferries operating between Harbour Front Centre Ferry Terminal are available only on weekends. The Sindo Ferry schedule is updated constantly. The service is prompt and there are usually no delays.
Sindo Ferry Travel Time
Sindo Ferry operates on different routes and the travel time varies as per the weather conditions. The standard travel time on differnt routes is as follows -
Singapore to/from Batam Centre : 55-65 minutes
Singapore to Sekupang : 40-50 minutes
SIngapore to/from Tanjung Pinang : 1hr 45 minutes
SIngapore to/from Tanjung Balai : 1hr 30 minutes
Sindo Ferry Check In Time
The Sindo Ferry check-in counter will close 20 minutes before departure time. The departure gate will close 15 minutes before departure. It is best to reach the ferry terminal 1 hour prior to departure to save the hassle.
Sindo Ferry Schedule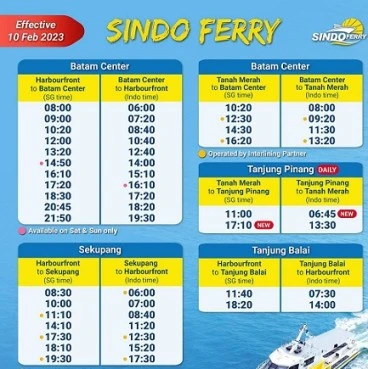 Amenities on Sindo Ferry
Sindo Ferry is known for its incredible amenities that are available to all travelers. The ferry boats are equipped with modern facilities for a comfortable journey. The interiors are spacious and you can even store your luggage without compromising space. Some of the top amenities include:
Luxurious seats with adequate legroom
Clean and hygienic interiors
Air-conditioning
Luggage storage
Wheelchair accessible entry
Travel Insurance
Sindo Ferry also serves food and beverages onboard. However, this facility was not available during the pandemic. The ferry may begin the service again, and if this is important to you, then it is best to query before you book tickets. You can check Singapore to Batam ferry time , ferry schedule and ticket prices with operators such as Sindo ferry when you do ferry ticket online booking with us .

Popular Routes Served by Sindo Ferry
The Sindo Ferry operates on various cross-border routes. There are many popular routes from Singapore to Batam and Bintan Islands. These ferry routes between Singapore and Indonesia are favoured by tourists and locals alike. People take the ferry for holidays, day trips, and work trips. You can use the Sindo Ferry contact number to find out more information about the routes.
Here are some of the top routes on which you can take the Sindo Ferry.
Harbour Front Centre to Tanjung Balai
Harbour Front Centre to Waterfront Ferry Terminal
HarbourFront to Batam Centre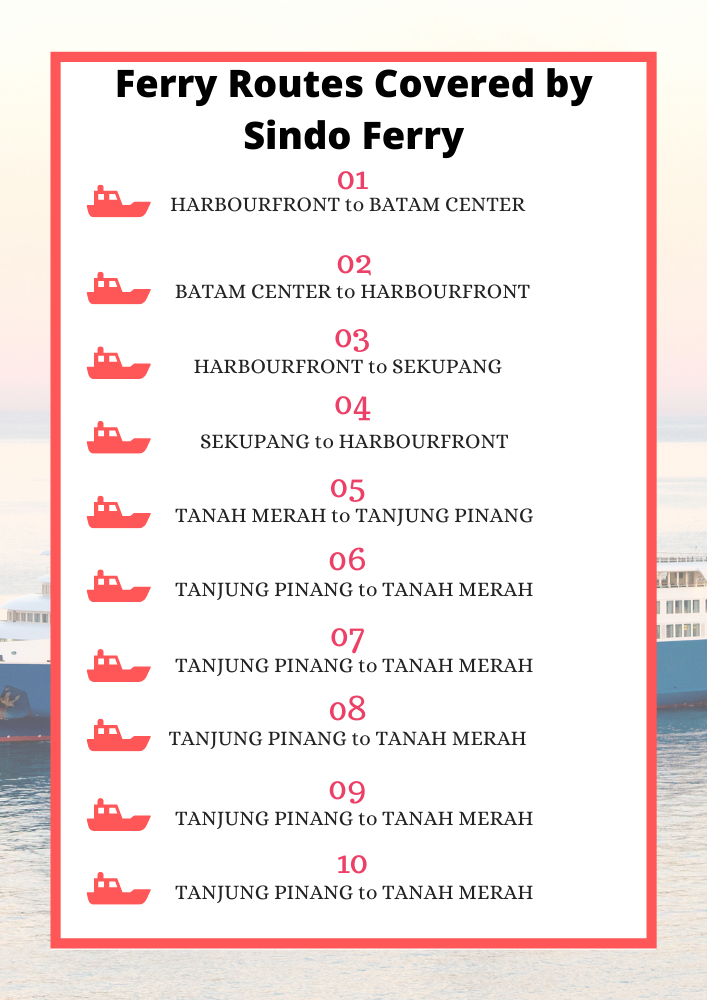 Popular Sindo Ferry Terminals
The Sindo Ferry serves several terminals. The ferry departs from two primary terminals:
Tanah Merah Ferry Terminal

The ferry connects these terminals to five different ferry terminals namely -
You can choose to travel between any of the terminals, check Singapore to Batam ferry time, ferry schedule Tanah Merah to Batam Centre as per your itinerary when booking any nearby island to Singapore ferry tickets.